Jobs
18-Jan-2013 to 19-Mar-2013 (EST)

Clovis, NM, USA

Full/Part-time Positions
Ride Time Pay, Incentive Programs, Career Growth Opportunities
---
Crew Members
Position Summary:
The Crew Member is responsible for safely and efficiently producing quality truck cleaning service that meets or exceeds the standards of clients and management.
Essential Duties & Responsibilities:
Prepare trucks for day:
• Fill water tank to appropriate level, make sure proper tools are on trucks for the duties that day, make sure fuel level is at the appropriate level, proper amount of chemicals for that day. Preparation is a critical task in this position.
• Secure all equipment
• Maintain and correctly use issued personal protective equipment
Perform service on customers site:
• Safely operate equipment with all necessary personal protective equipment
• Wash trucks using various brushes and wands, work with the team
• Use reclaim device to properly comply with customer specifications
• Clean interiors of trucks when necessary
• Perform washout services on refrigerated vehicles
• Maintain a clean work facility.
General Pressure Washing
• Use various tools and lifts to achieve cleanliness on a variety of services
• Apply cleaner as needed to various surfaces
• Rinse various surfaces to remove any excess detergents or soaps
• Work with the team
• Dump trash cans, sweep debris, and remove garbage as needed.
Perform maintenance on equipment: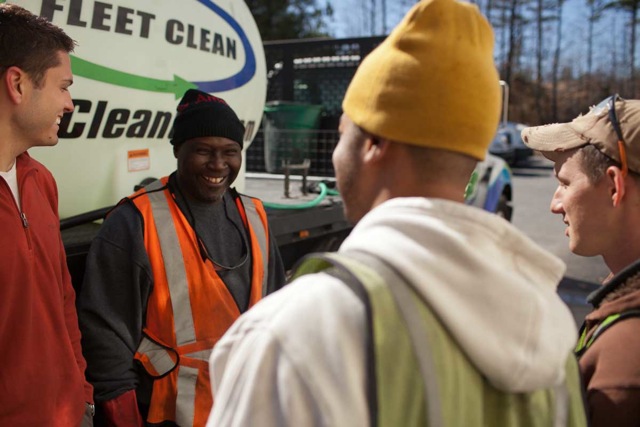 • Dump trash cans as needed.
• Wash equipment and truck
• Change equipment oil and filter
• Clean air filters
Must be available nights, weekends and holidays!
Physical Demands:
Safely perform heavy lifting/pushing/pulling of various equipment and materials, including, but not limited to extended brushes and large containers of debris and trash.
Safely operate high-pressure trigger guns, tire brushes, and extended length brushes.
Lift and carry up to 50 lbs.
Push, pull, grip and squeeze various tools, products and/or items
Walk up to 5 miles a day, sometimes uphill and on uneven terrain, often while carrying, pushing, or pulling equipment, materials, or debris.
Bend and kneel up to 9 hours or more a day
Spray various chemicals/ detergents
Work Environment:
Work hours vary and may exceed 12 hours per day
Work in extreme weather conditions (heat, cold, precipitation & wet.)
Noise level may be loud at times and use of earplugs may be required (e.g., outdoor conditions, pressure washers)
Qualification Requirements:
• Some experience in truck washing helpful.
• Must be able to operate various truck washing equipment. Technical capability is a must.
Education and/or Experience:
• High school Diploma
This position has been closed and is no longer available.
THIS POSITION HAS BEEN CLOSED! PLEASE CHOOSE ONE OF THE OPTIONS BELOW: